The New York Times recently created an interactive map that shows how far we have to go to eliminate poverty in the US. How does your community fare? 
The interactive map lets you explore poverty levels across the US. You can view the data through the percentage of individuals living below the poverty line or the number of individuals living below the poverty line. The data is based on the 2012 poverty level, which is $11,945 for an individual under 65 years old and $23,283 for a family of four.
Fifty years after President Johnson launched his War on Poverty, we have a long way to go to make sure that all Americans have a chance to thrive.
Income inequality (at its most extreme since the Gilded Age), stagnant wages, cuts to social services, and unfair housing practices all contribute to worsening– and highly concentrated– poverty.
Today, President Obama released a statement honoring the War on Poverty and acknowledging that we're far from a victory. He wrote, "In the richest nation on Earth, far too many children are still born into poverty. Far too few have a fair shot to escape it, and Americans of all races and backgrounds experience wages and incomes that aren't rising, making it harder to share in the opportunities a growing economy provides."
In fact, with this map, you can see just how concentrated poverty is. Looking at major metropolitan areas, the dark blue emanates from urban centers, while suburbs fade into light blue.
Rural areas aren't exempt, either. Johnson made Martin County, Kentucky the face of the War on Poverty, and today, we can see that Martin County struggles with nearly 39% of its residents living in poverty. One of the most impoverished areas in South Dakota, Shannon County, has nearly 50% of its population living in poverty. It also happens to be the home of Pine Ridge Indian Reservation, which covers the entire county.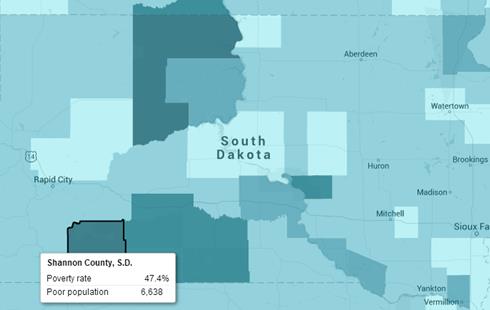 One of the aspects of the map I found most interesting, however, is how often high-poverty areas border low-poverty areas– as opposed to a gradual drop in income levels.
For instance, in my neighborhood, there's a clear divide between east and west (lighter blue indicating 0-20% living under the poverty line and darker blue indicating 20%+ living in poverty). I was surprised to see that some of the neighborhoods with very few households living in poverty butt up against neighborhoods with at least 30% or 40% impoverished residents. For instance, the Coventry Village/Cleveland Heights area (a suburb east of Cleveland) has fewer than 10% of its households living in poverty. But you need only cross Fairmont Blvd. or Euclid Heights Blvd. and poverty levels skyrocket to nearly 1 in every 3 residents. A few yards of roadway is all that separates two very different neighborhoods.
According to this map, how does your community fare? Share your insights and ideas with us by posting a comment or sending us an email. We'd love to hear your thoughts.