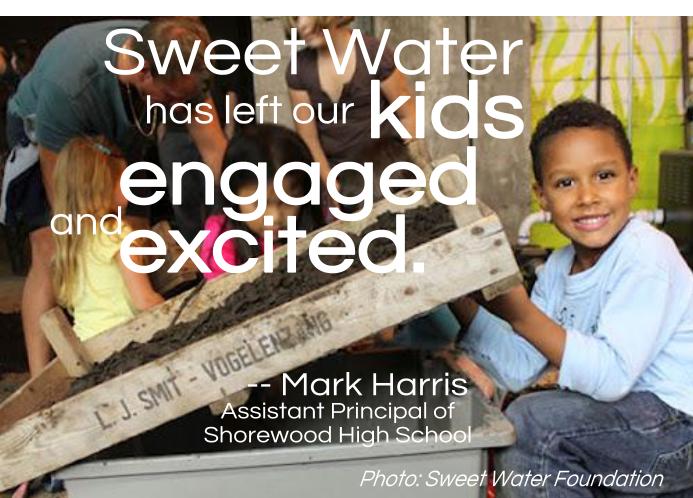 Sweet Water Foundation, the first partner in our Bridge Program, is wrapping up a year of growth and evolution and looking forward to fresh successes in 2013. We congratulate every volunteer, donor, staff member, educator, student, and visitor who supports Sweet Water!
The achievements of Sweet Water Foundation are inspiring, born of hard work and innovation. Their year-end report shared accomplishments that include:
Hosting 80 K-12 schools, universities and youth organizations in Farm Tours at the Innovation Center in Milwaukee.
Helping establish and operate an interactive Aquaponic center at Chicago State University that has hosted over 3,000 visitors.
Cultivating 35 aquaponic projects across Milwaukee and Chicago schools and community groups.
Delivering content and hands-on lessons to over 18 schools in the greater Milwaukee area.
Hosting five distinct summer programs that provided jobs, training, and mentorship for over 160 Chicago youth.
Expanding the Sweet Water mission globally through the Growing Networks collaboration
Building over 12 small-scale aquaponic systems in Milwaukee and Chicago.
Providing mentorship for the founding of an interdisciplinary graduate student led CSU Aquaponics Association Club.
Participating in over 10 conferences, lectures series, and speaking events to share our knowledge and experience with our community.
Innovation like this doesn't just happen. It requires passion, planning, and support from Sweet Water's friends– locally and globally.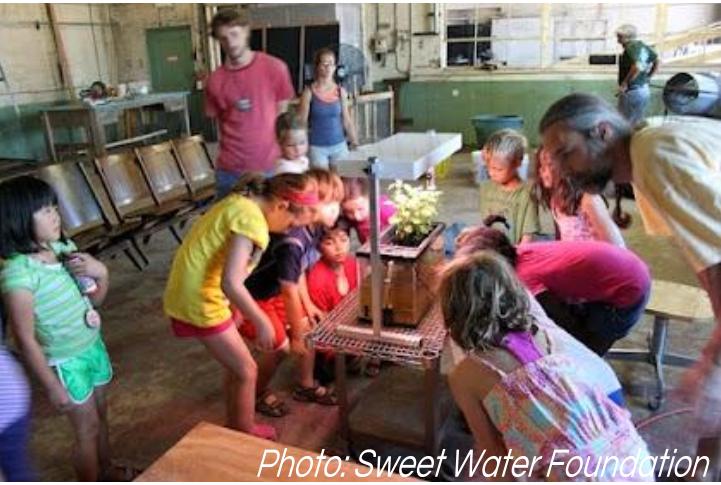 Consider donating, participating in a workplace contribution campaign, or volunteering. Visit them or call 414.215.WORM (9676). Your contribution– whether it's $5 or $5,000– fuels Sweet Water Foundation's success.
$5 – buy goldfish and seeds for a miniature aquaponics system
$25 – give an "Aquaponic Gardening" by Sylvia Bernstein book to a teacher or student
$50 – build a worm composting box for a school classroom
$100 – construct a 4'x8' raised garden bed
$150 – convert a 30-gallon aquarium tank into a living aquaponic ecosystem
$500 – create a hoop house to extend the growing season of a community garden
$1,000 – grow 50 fish and 10 square feet of vegetables (enough fish and vegetables to feed a small family)
$2,500 – sponsor a member school to visit Sweet Water 2 times per week for an entire school semester
$5,000 – develop a digital workstation at the Sweet Water Foundation Innovations Hub…the first of its kind.