Here at Praxia Partners, we take a keen interest in innovative fundraising and finance, so when we heard that educators at one of our favorite service enrichment programs had launched a crowd funding initiative, we wanted to get their perspective on what the experience has been like.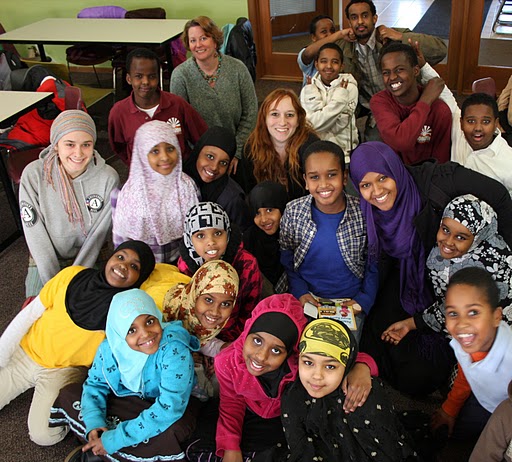 Columbus State Community College's ESL Afterschool Communities provides after school education, homework help, and a meal for students in several Columbus, Ohio neighborhoods. At Providence Glen, the program serves students in grades 2 through 5 who live in a predominately Somali immigrant and refugee community. This February, educators from the program launched a crowd funding campaign called Real Food for Real Kids that will provide all-natural, organic meals for students.
Crowd funding—also called crowd sourcing— uses the internet and social media to harness the power of many to support a worthy cause.
Joe Recchie, of Praxia Partners, described why he and Accord Management decided to support the internet campaign. "Using innovative finance to support a service enrichment program is a natural fit for Accord Management. The Real Food for Real Kids crowd funding campaign shows us that the educators at Providence Glen are proactive and think outside of the box."
A game changer for fundraisers
Once upon a time, nonprofits and community-based programs had to rely on traditional fundraising, such as grants, corporate donations, or knocking on doors. Thanks to the internet, however, it's never been easier to find new ways to finance promising projects.
I spoke with Brianne Manczak, the leader of the Real Food for Real Kids campaign and  Program Coordinator for Providence Glen. The initiative is independent from Columbus State, yet it's designed to complement the ESL Afterschool Communities' efforts. This is her first foray into crowd sourcing.
"Crowd funding appealed to me because it calls on the community to support its young members," she explained. "The reason we chose healthy meals campaign for crowd funding is because healthy meals for kids has always been a passion of mine, and the only thing standing in my way was funding. While I am grateful that we are able to provide these children with a hot meal every evening, I am striving for better. Some of these kids do not eat again after they leave program and also have breakfast and lunch in school. That is 3 meals a day of the same highly processed, mass-produced foods. It just cannot be good for their growing bodies and developing minds."
Crowd funding has the advantage of not simply reaching those who are already familiar with a program or organization but also those who are interested in related fields. In the case of Real Food for Real Kids, "It appeals to people concerned about both nutrition and education," said Janelle Dethloff, a math and reading tutor at Providence Glen who also helps students with homework and creative projects.
After deciding to pursue crowd funding, Manczak and her fellow educators had to determine which platform to use. "One factor that led to choosing GoFundMe was that any amount you raise goes toward your project right away," Dethloff said. "With other funding sites, like Kickstarter, your project must be fully funded, and if you do not reach your goal, then you don't get any funding. With GoFundMe, whatever amount we receive by the end of the campaign, we can put towards a new meal program."
Manczak added, "Crowd funding was the easiest way to cast as wide a net as possible and reach so many people at once and there is no penalty for not reaching your goal." They decided to set a goal high enough to pay for meals for every child in the program, knowing that every penny they raise will go toward healthy food. Because they thoughtfully selected their fundraising platform, they could decide to shoot for the stars.
Interactive and active
Crowd funding doesn't require money for postage and letters, and many of the "thank you" gifts are also online, keeping the process streamlined and cost-effective. However, it's not a matter of sitting back and watching the cash roll in. Campaigns must be crafted with as much care as any other fundraising effort. Manczak posts updates regularly, and Accord Management was delighted to see a "thank you" video featuring the energy and enthusiasm of the Providence Glen students. (Embedded below.)
"I like that with crowd funding on sites like GoFundMe you have the opportunity to make the fundraising process interactive," said Dethloff, who created the video. "That's where our video came in because we wanted to have a way for the kids to thank the people who have already given so generously!"
A donor's perspective
Crowd sourcing is great for fundraisers, but what about donors? I donated to the Real Food campaign, because like many of you, I believe that healthy food is not a luxury, and I've been lucky enough to see how effective ESL Afterschool Communities are. The donation process is invariably simple— in just a few clicks, I got to choose the donation amount and if I'd like to be anonymous or have my name listed. I was even able to attach a note to my donation thanking the educators for their work. It was incredibly rewarding knowing that my message reached the students and educators directly and instantaneously.
Prior to 2012, I'd never donated to a single crowd funding project, but by this spring, I've been able to contribute to campaigns that range from supporting a family struggling with a cancer diagnosis to a fundraiser for a music album to, of course, the Real Food for Real Kids campaign. Plus, unlike donating by traditional means, I don't end up on a bunch of mailing lists. It's hard to imagine the fundraising landscape without this valuable resource!
For more about crowd sourcing, check out these resources:
Have you donated to or run a crowd funding campaign? If so, what were the benefits and challenges? Drop us a line or leave a comment.