Last month, we discussed Cuyahoga County's proposal to use Pay for Success to help homeless Ohio families remain intact. This month, we spoke to some of those involved for an in-depth profile of the plan.
Child welfare organizations all share the same goal: help families stabilize and remain intact.
In Ohio, Cuyahoga County is revolutionizing their approach to caring for homeless families and reducing reliance on foster care. By using Pay for Success and social impact bonds, the County hopes to answer the question, "Is it possible to reduce spending and improve preventive interventions?"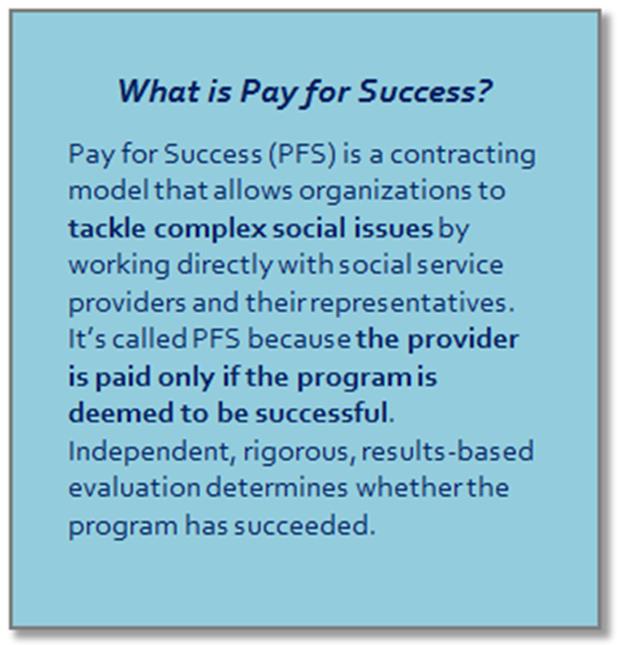 With Pay for Success (PFS), rather than paying for services that may or may not effectively ease social problems, an organization pays for positive results. This makes PFS especially appealing to government agencies—and taxpayers.
Social impact bonds (SIBs) can finance a project by attracting social impact investors who want to receive a return on investment and help solve society's most persistent problems.
Families in Need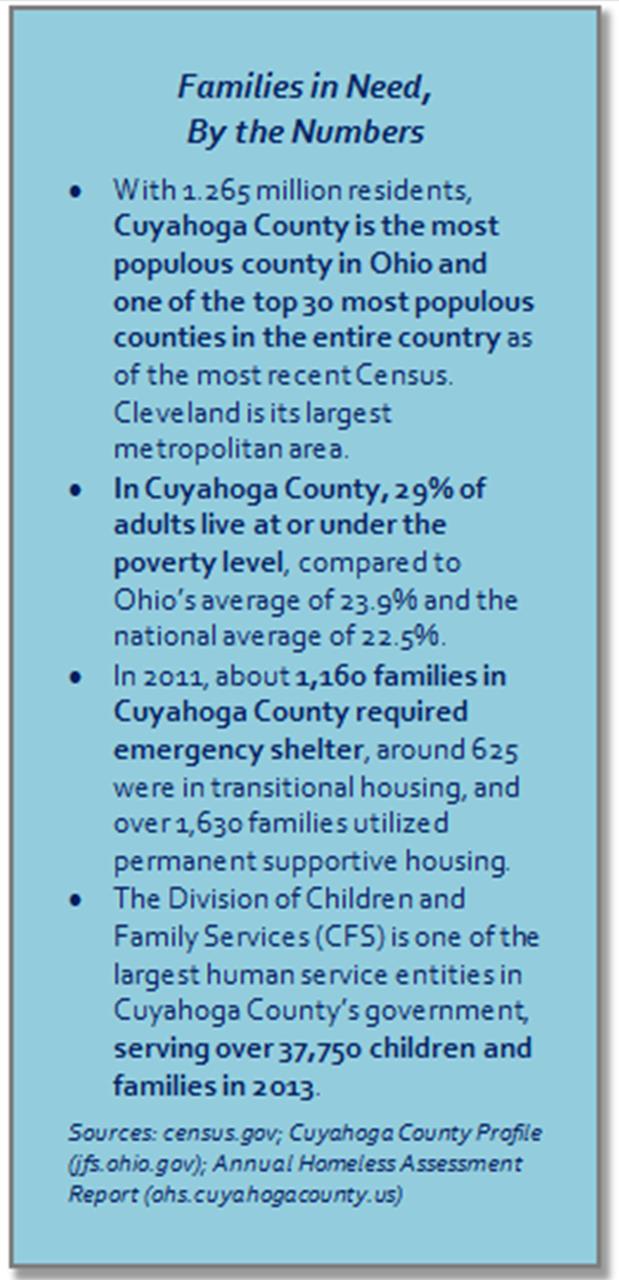 In the past decade, child welfare organizations across the nation have made extraordinary progress in reducing the number of children in foster care. Cuyahoga County in particular has made dramatic improvements. In fact, in 10 years, the number of children in its foster care system dropped from 6,000 to 1,700 and currently, about 1,650 children are in placement through the Division of Children and Family Services (CFS).
As the Administration for Children & Families points out, "With over 3,000 counties or county equivalents in the US, just 10 counties accounted for one half of the national decline, both overall and among African American children." Cuyahoga County is one of those trailblazers.
Despite the progress, however, the County still spends $35 million a year on its foster care system.
"We're nationally recognized for our leadership and our success at reducing child welfare, but what's left is families and children with higher needs," said David Merriman, Deputy Chief of Staff of Cuyahoga County's Health and Human Services.
Merriman spoke with us about the County's plan and how homelessness can sometimes lead to involvement in the foster care system.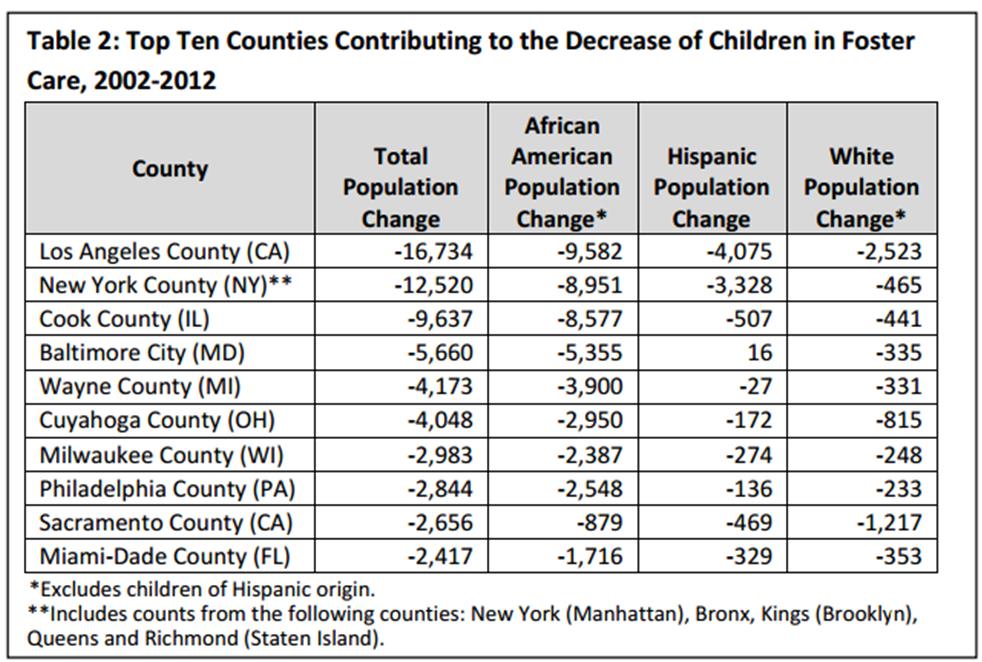 "We don't take custody of a child just because mom is homeless," he explained. "However, some families become homeless for reasons of social problems, and those same social problems could lead to risks to the child in terms of their stability." He added that many of the problems "relate to trauma the parents have experienced."
Why Pay for Success?
Coupling PFS with SIBs can help communities reach both their social welfare and financial goals.
The concept behind Cuyahoga County's plan is that investing in interventions now will save money down the road. (To use a health care analogy, funding preventive care is smarter than funding only emergency care.)
Joe Recchie, Praxia Partners' founder, is a longtime advocate for innovative funding models that boost social equity. Why does he support PFS? "The number one advantage to a Pay for Success program is that, by definition, it includes a continuously improving, multidisciplinary approach to big problems," he said.
"Most funding sources are tied to very clear and strict rules on how the dollars can be used. Sometimes, those rules prevent you from applying a flexible and adaptive intervention to a complex family situation," said Merriman. "That's why this initiative is exciting. It lets us wrap financing and contracting around a problem through innovation."
Inside Cuyahoga County's Plan
Cuyahoga County's interest in PFS and SIBs was first piqued by a 2011 visit from Marcia Egbert and Robert Jaquay of the Cleveland-based Gund Foundation. A follow-up visit to a White House briefing on the subject stoked County officials' enthusiasm, and, by 2012, they committed to exploring the promise of PFS.
Cuyahoga County initiated the first ever county-level Pay for Success procurement in the nation. County Executive Ed FitzGerald explained that they aim to, in his words, "transform how human services are provided in Cuyahoga County."
"We are a leader," said Merriman. "We're frequently being contacted by other political subdivisions of other states that are exploring this, and they're looking to us to learn from our experience."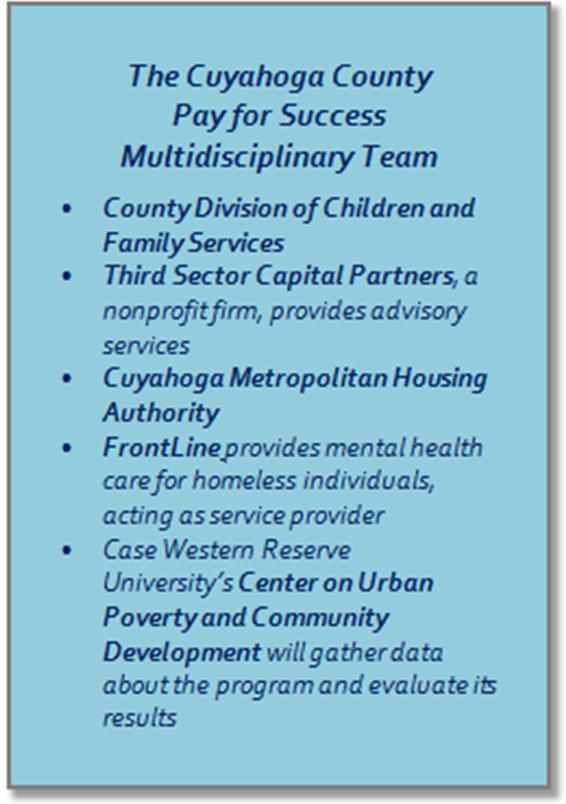 Merriman notes that while Cuyahoga is pioneering county-level PFS, the program requires a robust team effort.
"We would not be where we are without the Gund Foundation's leadership, funding, and support. Marcia Egbert [senior program officer for the Foundation's human services] is a visionary and a game-changer. She's been with us from the start," Merriman said. "The Cleveland Foundation has also supported the County's Pay for Success Initiative. They have provided Third Sector with additional funding support for their technical assistance expertise. The Cleveland Foundation's support has allowed us to provide Third Sector with a match grant as one of the first-of-its-kind in the nation towards Pay for Success pre-development technical assistance."
Investments have also supported Case Western Reserve University's Center on Urban Poverty and Community Development evaluation design and research into the target population.
Who Will be Served?
Merriman explained that Cuyahoga County aims to reach homeless families as well as families that experience housing instability and multiple system involvements (for example, the court system). In most cases, the program will focus on mothers.
By providing mental health services and housing support, the program seeks to get to the root of family instability before it reaches crisis point.
"How can we field an intervention that will really look at the mom's needs?" said Merriman. "At times, when those needs go unmet, they lead to other social problems that can lead to homelessness or involvement in child welfare."
Collaboration is Key
Although the initiative is run primarily through the Health and Human Services, multiple other divisions and offices within Cuyahoga's CFS will coordinate the program, including the Office of Homeless Services. In addition to requiring intradepartmental cooperation, PFS necessitates collaboration between the government and nonprofits, investors, and service providers.
"We've got a track record of working on collaborative initiatives," Merriman said. "We're really lucky to be working in Cuyahoga County, where there is this tradition, and where we have great partners, like the Gund Foundation, the Cleveland Foundation, the Cuyahoga Metropolitan Housing Authority, Case [Western Reserve University], Frontline Services, and many other community partners."
"Cuyahoga Metropolitan Housing Authority's role in the Pay for Success initiative will potentially help provide housing opportunities to homeless women and their families throughout Cuyahoga County," said Jeffery K. Patterson, Chief Executive Officer for CMHA. "This program is a golden opportunity to serve a constituency that is desperately in need of service."
Looking toward the Future
Merriman explained that some social impact investors may contribute to the program's sustainability. "There's hope that investors will be willing to recycle their investment and keep their dollars dedicated to this high-need population for another six years or that other investors will see the project's success and want to be a part of it in the next phase," he said.
PFS and SIB models are adaptable and scalable, which means that Cuyahoga County's plan could potentially expand its scope.
"We can start to work in a way that natural lends itself to future Pay for Success opportunities," said Merriman. "There could be the opportunity for us to reach families that are involved not just in homelessness, not just in child welfare, but also in the jail system." He added, "We're also looking to see how many of the mothers whose children are placed in foster care today were actually in foster care themselves – the generational cyclicality of this high need population is something we're also trying to impact."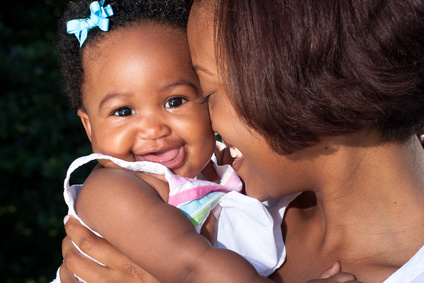 For Recchie, the potential for scaling up is one of the most appealing aspects of PFS.
"The very nature of the Pay for Success model incorporates finely tuned metrics, multidisciplinary coordination, third-party review and program synthesis, and the enlargement of best practices," he said. "These are the key elements of scaling any enterprise."
Recchie, like many advocates for PFS and SIBs, appreciates the models' adaptability. He points to hospital readmission among seniors with chronic illnesses as an example of another costly social issue that PFS could address.
"An interdisciplinary program of community-based support has proven highly effective in reducing costly hospital readmissions and improving the quality of life of our elders with chronic disease," he said.
Regardless of which social issues PFS and SIBs are applied to, we anticipate that more nonprofits, governments, and foundations will embrace this new approach to fulfilling their financial and social goals.
We'll continue to follow Cuyahoga County's progress and bring you the latest on PFS and SIBs as a part of our Innovative Finance Series.
Praxia Partners is not involved in Cuyahoga County's plan, but we're enthusiastic about this cutting-edge program being established in our home state of Ohio. Why? The PFS model complements our approach to collaborative, sustainable development, and SIBs represent an exciting new form of financial innovation.
In fact, SIBs are just one of the socially minded forms of finance that Praxia Partners is tracking. We believe that smart finance can enhance environmental stewardship, so we're also tracking the evolution of carbon offsets.
"This lively market could simultaneously reduce the massive economic and human costs associated with climate change and promote large-scale economic innovation in renewable energy, energy efficiency, and pollution control," said Recchie.
Check back with us for more about innovative finance on our Wednesday posts and Friday news round-ups.
To learn more: