Podcasting is the new broadcasting. Today, we share 5 favorites that deliver fresh content about social justice and environmentalism.
5 favorites, in no particular order:
Marketplace's Wealth and Money podcast addresses a wide variety of economic topics, from the metrics behind how hotels earn five-star ratings to more serious topics, such as what's covered under WIC and how the mortgage crisis has damaged communities. Their coverage of domestic and global inequity (and its serious ramifications) is well worth checking out. Sample programs: How We Measure Poverty Line(s); Giving Homes to the Homeless Without Preconditions; How Rising Rents, Falling Incomes Crush Communities. Search for: "Wealth & POverty from Marketplace APM"
DecodeDC is dedicated to demystifying the workings of our political system. They cover the debate over climate change, the new populism (on both the right and the left), and takes on the issue of whether our representative democracy truly represents our changing nation. Sample programs: What Can Mars Teach Us About Politics on Earth?; The Real Fight over Unemployment Benefits; The Untold Story of the Stimulus. Search for: DecodeDC (one word)
Does education perpetuate or alleviate inequity? In 2009, Colgate University produced a series on the battle against exclusionary educational systems, Education and Social Justice. Sample programs: Urban School Reform; Multicultural Education; LGBTQ Movements in Education. Search for: "Education and Social Justice Podcast"
NPR offers a wide variety of their full-length programs as well as specialty programs as podcasts. Sample programs: NPR's environment podcasts bundles segments from a wide variety of productions into one 20-30-minute production. Search for: "NPR Topics: Environment Podcast"
itunes U lets you listen in on world-class learning institutions' lectures and discussions on just about any topic you can imagine. Many are video, some are just audio, and often books, movies, and textbooks are paired with podcasts so you can peruse an entire "course" on your own schedule. Sample productions: Civil Rights History Project (from the Library of Congress); Women and Public Policy Seminar Series (from Harvard University); Energy Seminar (Stanford University).
The new broadcasting
No matter what your interest or hobby, there's probably a podcast devoted to it. Podcasts can be downloaded or streamed through programs such as itunes or web sites such as libsyn, and you can listen to them on your computer or on your MP3 player.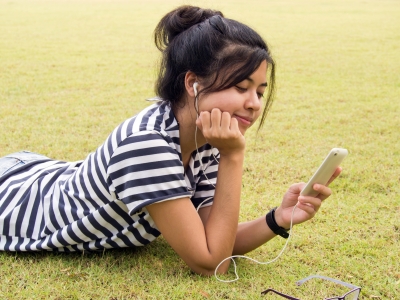 Podcasts are free, portable, and allow you to decide when to listen. Some of the most popular podcasts out there are actually radio shows– you still get access to your favorite programs, but you don't have to worry about tuning in at a certain time. By now, I can't imagine doing my dishes without one of my favorite podcasts at hand, plus, they can actually make commutes fun.
Podcasts are liberating for listeners, but they're also liberating for creators. The flexibility of format and relatively low production cost means that anyone can produce their own show. Some podcasts advocate from a political position, and some offer unbiased coverage of vital issues. You don't need a broadcasting licence, fancy studio, or press to share the news and ideas you think are most important.