Podcasting is the new broadcasting. Find out how this new media delivers fresh content about social justice and environmentalism, plus, I recommend a few faves.
No matter what your interest or hobby, there's probably a podcast devoted to it. Podcasts can be downloaded or streamed through programs such as itunes or web sites such as libsyn, and you can listen to them on your computer or on your MP3 player.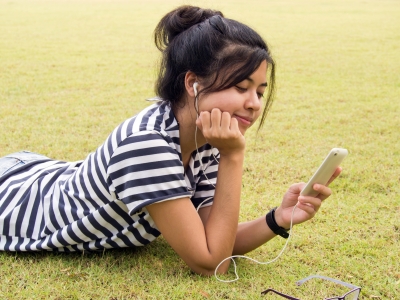 Podcasts are free, portable, and allow you to decide when to listen. Some of the most popular podcasts out there are actually radio shows– you still get access to your favorite programs, but you don't have to worry about tuning in at a certain time. By now, I can't imagine doing my dishes without one of my favorite podcasts at hand, plus, they can actually make commutes fun.
Podcasts are liberating for listeners, but they're also liberating for creators. The flexibility of format and relatively low production cost means that anyone can produce their own show. You don't need a broadcasting licence, fancy studio, or press to share the news and ideas you think are most important.
The podcasting world is full of niche programs, so whether you're into solar power or social justice– or knitting, or kayaking, or hip hop– you can find shows that speak to your passion.
Some shows advocate from a political position, and some offer unbiased coverage of vital issues.
There are plenty of fantastic podcasts that cover social justice, equity, and environmental stewardship.
A sampling, in no particular order:
NPR's Planet Money focuses on economics, excelling at breaking down complex issues in an entertaining and straightforward manner. Where to start: Episode 217, The Art of Living at the Poverty Line, episode 487, The Trouble with the Poverty Line, and episode 472, The One-Page Plan to Fix Global Warming
Education for Social Justice has 12 archived episodes. Where to start: Episode 12 (Multicultural Education) and episode 9 (Aboriginal and Native American Movements)
Bill Moyers Journal audio. Where to start: Episodes 40 (Profits before Patients) and 4 (Achieving Financial Reform).
PRI's Smiley & West. Where to start: March on Washington for Jobs an Freedom (8/23/13) and Detroit Walk to Freedom (6/21/13)
APM's Wealth and Poverty from Marketplace.

TED Talks  (and 

NPR's TED Radio Hour) and often includes strategies for making the world a better place through better business practices, environmentalism, or social equity. You choose between the audio version or video version.
New York Time's Science and Environment
PRI's Global Health & Development. Where to start: 5/8/13's program about the Bangladesh garment factory collapse an 11/9/12's Rethinking Urban Design in Hurricane Sandy's Wake.
US EPA's Green Power Partnerships webinars (video). A great resource for those on the forefront of energy independence.
What are your favorites? Share your thoughts with us.
Please note, podcasts I've chosen to include indicate my own preferences. They are not endorsed by Praxia Partners.
Photo courtesy of Sira Anamwong at FreeDigitalPhotos.net