Often, seniors with modest incomes have to choose between three insufficient options: struggle with assisted living bills, navigate supportive services on their own, or rely on a loved one for caregiving.
Joe Recchie, of Praxia Partners, began noticing the need to provide older community members with better housing choices.
"The number one desire every senior wishes for is to be able to live independently, avoid institutionalization, and not be a burden on their family," he said. "They want to be able to age and maintain their lives with dignity."
He had already integrated community-based supportive services—such as after school programs and meals—into affordable family housing. In the early nineties, he began wondering if the same concept could be applied to housing for seniors.
While his team began determining how to develop the community they envisioned, they realized they had to wrestle with a much more fundamental question: What makes a good life?
He knew that services for seniors would be differ dramatically from the supports he'd connected to family housing. The approach to determining which services to pursue, however, stayed the same.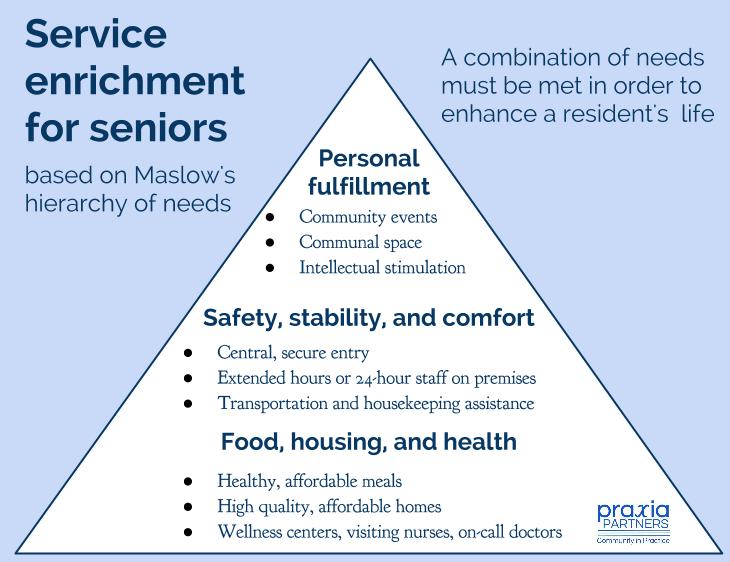 "We just work our way up the chain, from the most essential to the most aspirational," Recchie said, referencing Maslow's hierarchy of needs. "The first objective is to get housing safe, and secure, and high quality, but at a sustainably low rental price. It doesn't help to have a very low introductory rental rate if you can't sustain it."
Service enrichment for seniors as he conceived it would not only enhance the lives of residents, but also the lives of their loved ones.
"One of the things we noticed was that caregivers—oftentimes, the daughters of elderly seniors— were themselves suffering from health failure faster than the seniors they were helping," he said. "When you think about a nurturing person trying to help their parents and also perhaps raise children and meet the obligations of a job, you can see how they end up sleep-deprived and completely worn out, and as a result, suffer from illness."
Wellness centers, visiting nurses, and transportation to appointments allow seniors to age in place. In order to navigate healthcare options, residents require access to supports, such as case managers from their area agencies on aging.
"Having a case manager helping a senior along with a loved one also gives some relief to that caregiver," Recchie noted.
He singled out the congregate meal site where residents enjoy daily, community lunches at no cost as perhaps the most important service, because it combines social interaction with nutritious meals.
Additionally, residents need to be able to pursue their passions and hobbies in order to be intellectually stimulated and fulfilled. Facilitating a sense of belonging is also paramount. Intergenerational activities expand the boundaries of a community, and large, communal spaces ensure that residents can easily host family and friends. When the full range of human needs is taken into consideration, it becomes possible to create not simply housing but also community.
Read more about how Joe Recchie's team integrated supportive services and affordable senior housing in this profile of the Sharon Glyn Senior Apartments and Corban-Commons Apartments.