As we prepare for Thanksgiving, food banks are bracing for unprecedented demand due to cuts in food assistance for the most vulnerable in society.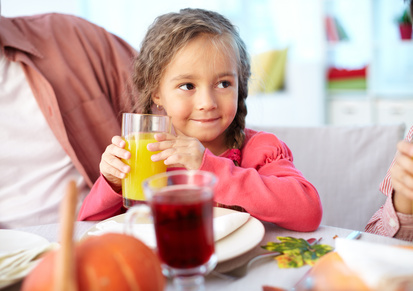 On the first of November, cuts to the powerful food assistance program SNAP (Supplemental Nutrition Assistance Program, formerly known as food stamps) took effect. This leaves nearly 48 million Americans reeling just as the holiday seasons approach, and charitable organizations simply can't make up for this deficit.
SNAP benefits are modest (ranging from $16 to a maximum of $355 prior to cuts), and most households receiving SNAP run out of funds near the end of the month– meaning this will be a very tough Thanksgiving, Hanukkah, and Christmas for millions of families. (And yes, the vast majority of households enrolled include a child, a senior, or someone with a disability.)
During the recession, the number of Americans in need of food assistance skyrocketed. Much of the conversation about SNAP has been dominated by politicians, but Slate took the time to speak to an enrollee, Debra, a veteran. Here's how she described her meal planning (her words, my emphasis):
Yes. It's me and my daughter at home. She's 21 [which means she can't apply for benefits for one more year]. Yes. It's me and my daughter at home. She's 21. It was bad enough before the cuts: We were eating lunchmeat all week, and we only had enough for a can of vegetables a day. Divide $203 by 30 days, and then by 3 meals, and then halve it for each person. It's not a lot. And now it's going to be much worse. I don't know if we can still do the canned vegetables every day. One thing we won't do anymore is have three-course meals on weekends. We used to buy a dinner on Saturday and Sunday that would have three courses: a vegetable, a starch and a meat. But meat is going to be a huge problem. It's expensive for anyone. I don't know what we'll eat for the weekends anymore. Hopefully not lunchmeats again.
Debra also spoke about what it's like to be a mother on food assistance:
She eats. I'm her mother. I let my daughter eat. Last night she was hungry and we had some peppers. I made her an omelet with eggs, lunch meat and peppers and I went to bed without eating. I could have made myself an omelet too, but that would have meant no eggs for the weekend.
Food banks and other nonprofits that serve low-income households are struggling to adjust to the huge increase in need.
Lynne Butler of  Denver's Metro CareRing told the PBS News Hour, "It's staggering. Since November 1 at Metro CareRing, we have seen an increase in need. We have seen long lines, longer lines at our facility. And it's not just because of the holiday season upcoming. We're certain it's because of the decrease in benefits. Since November 1, the lines have been down the block."
There's a great deal of misinformation about SNAP. Here's the reality, by the numbers.
23 million: the number of households that need SNAP to ensure that their families are fed.
Over 75%: percentage of households receiving SNAP benefits include a child, a senior, or a person with disabilities
5 million: Americans kept out of poverty thanks to food assistance
$744: the average monthly income of a household enrolled in SNAP
3 million:  seniors are enrolled in SNAP
1.8 million:  people in Ohio (Praxia Partners' home state) affected by SNAP cuts
50 million: Americans who live under the poverty line
$5 billion: cuts that have gone into effect