Praxia Partners' Joe Recchie pioneered service-enriched, affordable housing throughout Ohio. 
For low-income families, finding affordable housing is one of the most powerful ways to improve quality of life. Praxia Partners' Joe Recchie has worked for decades enhancing affordable housing, so families are connected not simply to affordable housing, but service enrichment as well. Recchie has established service-enriched housing for seniors, low-income families, and immigrant and refugee households. 
Service enrichment connects residents with community-based services that enhance life. Resident Janet Valentine describes Sharon Glyn as a place where residents look out for one another and take special care to reach out to those without family left. Community life includes euchre and domino groups, bingo, a walking club, monthly bookmobile visits, yard sales, bake sales, plus holiday and birthday parties.
"It's like a big, happy family," Valentine said.
Connecting housing to community-based services ensures that older residents save money and, more importantly, improve their health and well-being.
At Corban-Commons, residents enjoy community space, a computer lab, beauty shop, patio, pond, fitness center, and medical exam room, and it also hosts LifeCare Alliance's "Eat Better, Feel Better" classes.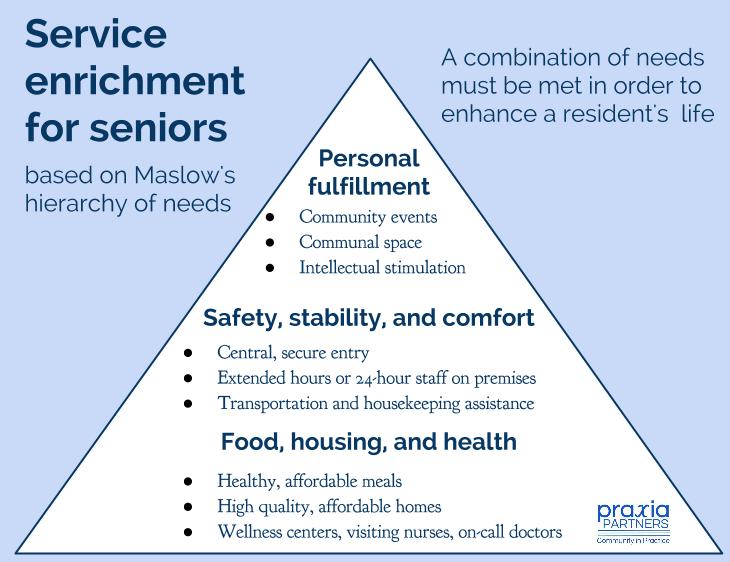 Successfully enhancing affordable housing requires collaboration and cooperation. When crafting service enrichments for for the Sharon Glyn and Corban-Commons senior communities, Recchie partnered with the Licking County Aging Program and Dayspring Christian Community Development Corporation (a wholly-owned subsidiary of Rhema Christian Center),  Homeport, Mount Hermon Missionary Baptist Church's My Brother's Keeper, and New Salem Missionary Baptist Church's Renaissance Development Corporation, and  LifeCare Alliance, the Central Ohio Area Agency on Aging, and other service providers.
Recchie enjoys partnering with nonprofits.
"There's a directness to nonprofit activities. They know exactly what they're trying to do, they know exactly what they're allowed to do, and their mission is tied to the betterment of the community," Recchie said. "That's what's rewarding for me. They're very direct about their mission to help others."
"The enriched services model is not a fad, it is an extension of service to an aging population," said William Dodson,  Executive Director of Dayspring Christian Community Development Corporation, adding that another Dayspring senior housing community, Stratford East, has since used the model. "We need more communities like these."
Central Ohio has taken note of Recchie's example.
"Homeport, National Church Residences, and the Columbus Metropolitan Housing Authority have emulated the model throughout Columbus and Franklin County," said Dodson.
Recchie is looking toward the future.
"A key element in future designs would be to promote or maximize renewable energy resources for the facility, because that's a way to control costs and therefore, maintain sustainable and affordable rent," he said. "Utility, insurance, and realty all increase, and yet senior incomes don't increase that much. It's important to take the burden of operating expenses for housing off of the shoulders of the senior residents and to absorb that at the organizational level."
He believes the model has implications beyond family and senior housing, especially for veterans and people with physical disabilities. Recchie's Accord Management also oversees Providence Glen, which serves a mostly immigrant and refugee community. Accord strives to improve life for its residents by making sure that the Columbus-area community has access to vital services and supports, such as Columbus State's ESL Afterschool Communities.
Check back with us to learn more about service-enriched affordable housing.