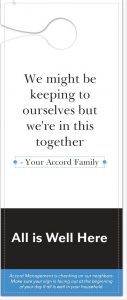 At Accord Management we consider all of our residents a part of the Accord Family. Because the majority of our residents are seniors and therefore more vulnerable to COVID we have been proactive in protecting and caring for them. Because social isolation is a serious detriment to health in seniors, our properties are designed around community, with lots of communal spaces and ways for our property management team and residents to interact. In normal times, we use that consistent interaction as a way to gauge our residents' well-being. Unfortunately, given the threat of COVID we have had to ask our residents to self isolate in their apartments – which has limited our staff's ability to check in on each of our residents and keep tabs on who might need additional social services, or extra help managing- especially in this particular time.
This week, we implemented the All is Well door hanger system at all three of our senior communities as a way of helping our seniors communicate their needs. While our staff is always available by phone (and we remind our residents of that almost every other day right now) we want to give our residents as many ways as possible to communicate their needs!
Our seniors flip their door hangers out to let us know they are okay during the day, and then our staff turns them over at night to prepare for the next day. If a resident doesn't switch their hanger, our staff knows to check on them. They may not feel well, but they also might just need help getting groceries, or medications, or they might just be feeling a little blue from the isolation and anxiety of a global pandemic.
We implemented the door hanger system as a way to help our community communicate with our staff and feel a sense of solidarity in their act of social isolation. We want our residents to know that although they are staying to themselves, that social isolation for the sake of each other is an act of community.