NEIGHBORHOOD SOLAR EQUITY
To help nonprofits reach their economic and ecological goals, Community Renewable Energy crafts clean energy solutions tailored to each partner's specific needs, challenges and opportunities. Given our decades of experience supporting non-profits, we understand both the opportunity renewable energy presents to non-profits, and the challenges of accessing it. We use new technologies to solve traditional pain points for our non-profit partners. Community Renewable Energy builds solar that meets or beats your fossil fuel-based energy costs and structure our projects to reduce risk and burden for you. Our solar projects strive to reduce operational costs allowing our partners to focus more of their dollars on their important missions while reducing their environmental impact at the same time. By driving project costs to zero, your nonprofit can refocus operating expenses towards your mission while simultaneously garnering public and funder goodwill.
The Neighborhood Solar Equity (NSE) initiative is a collaboration between Community Renewable Energy and a mission-aligned Benefit Corporation, Root + Branch. We launched the NSE initiative to further our community-based mission in the District of Columbia and to harness solar power for community-wide impact. To reduce the financial burden to nonprofit partners in D.C, we develop, finance, own, and maintain the solar photovoltaic system for our nonprofit host for twenty years. NSE projects provide clean energy to the nonprofit host at a below-market price, often even for free.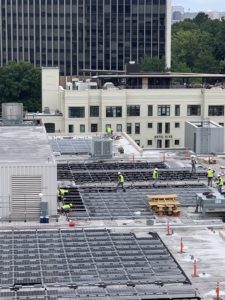 To further expand the impact of clean energy, our NSE projects reinvest proceeds of these systems back into our surrounding neighborhoods through community development efforts. We engage stakeholders and the community to encourage growth in solidarity, responsibility, and compassionate care for the environment. This integrated model of solar maximizes the impact of clean energy while sharing the benefits of clean energy with our community. Every Neighborhood Solar Equity project strives to make more winners with solar.
Read more about one of our innovative NSE projects- Solar For All.