It's never lost on us how our community continues to step up when called upon!
Like all parents during this pandemic summer, the parents and grandparents at our properties have been searching for COVID-safe, outdoor activities to keep their kids engaged. So when our property management team, Accord, heard about COSI on Wheels and COTA's partnership to bring this COSI experience out to the community, we jumped!
We reached out to COTA, to find out if they would be willing to take their COSI show from city schools to our community, and they immediately started working on making it happen. They brought their bus out to the property to make sure it would fit and could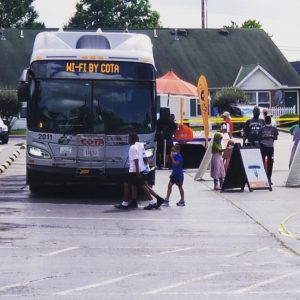 turn around safely and then added Providence Glen to their schedule.
On September 10th, they brought the COSI party to our community and spent the afternoon sharing learning experiences, their new COSI app, free wifi and some educational swag with our families!
We are so grateful for community partners like COSI and COTA!
Check out some pictures below of our great afternoon!