Community Building Partners is collaborating with Buckeye Hills Regional Council and valuable stakeholders— including Ohio University, the City of Athens, and Athens County, along with a team of planners, engineers, attorneys, and market analysts —on an economically viable strategy to reactivate the Ridges (Kirkbride) campus. The plan was presented for review last week to the Ridges Advisory Committee. Read Ohio University's press release about the project here.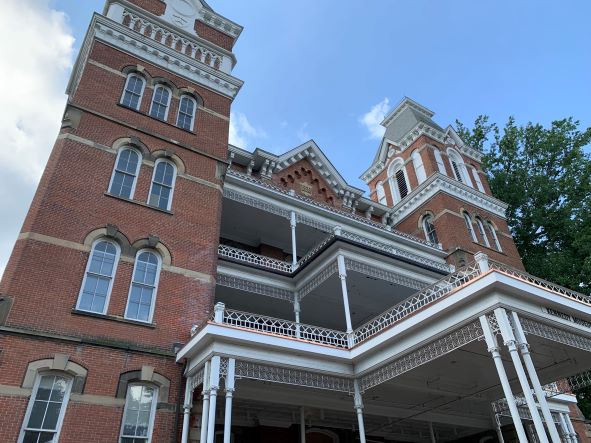 The remarkable Ridges campus was built in the 1860s, spanning 630,000 square feet of historic buildings and 700 acres of land. The Ridges Advisory Committee's core goal is to be good stewards of The Ridges, as well as the rehabilitation and preservation of historic buildings and conservation land. Less than 100 of the more than 700 acres of land could ultimately be used for new development.
The overarching goal is to develop an economically viable strategy for the reactivation of the Ridges that responds to the unique needs, challenges, and opportunities of Ohio University, Athens, and the region. This phase of the project has been through 18 months of research and development, conducting the due diligence necessary to integrate seamlessly into the thriving community by being additive and not extractive to the region. Our collaboration has been holding meetings to inform stakeholders and receive valuable input pertaining to the future of our project.
In advancing the overall implementation of the initial Ridges Framework Plan, the committee's economic development strategy has continued to adapt through a combination of stakeholder feedback and evolving university needs. We've envisioned our strategy alongside the Ridges Advisory Committee and presented a solution to elected officials and OU leadership, including President Hugh Sherman. Furthermore, we believe our engagement with lenders, institutional investors, and state agencies strengthens the viability of our economic development strategy.
More information on the Ridges development strategy will be forthcoming.