The City of Toledo Council recently approved local landmark designation status for Thurgood Marshall Senior Apartments on September 27th. The partners are excited to earn this achievement and preserve a piece of Toledo's history. Porter Thomas Architects compiled some the history and background of the building to help us make the case for this historic designation.
The Webster School is in a Collegiate Gothic style, constructed in 1921, and received interior renovations in 1948 and 1974. With three levels and a garden-level basement, the building maintains historical integrity and continues to reflect its original functions. The Webster School is associated with Toledo's industrial revolution, neighborhood growth, and the public education system through its period of significance from 1921 – 1972, retaining its integrity as a whole. Its setting provides the physical context for the education system of Toledo.
The nominated Webster School qualifies for listing on the National Register of Historic Places because the property represents the early twentieth-century development of Toledo Public Schools, the evolution of public education in the nation, and the trends of Toledo's population shifts due to the manufacturing industries. It's located adjacent to the residential neighborhoods it served, maintaining the overall neighborhood school feel. When Toledo's manufacturing industry took off the city's population exploded, and the advent of child labor laws meant kids that used to spend their days working could now participate in the public school system instead. The Webster School was built to help serve the new Toledo students seeking an education. 
The school was named for Daniel Webster, an American lawyer, orator, and politician who served in the US Congress and as Secretary of State under Presidents Harrison, Tyler, and Fillmore. The school was used for "early beginners" through eighth grade. At its largest, the school enrollment was 1,100 students. However, enrollment declined over time and by the early 1940s enrollment had declined to 195 students and so the Board voted to close the Webster School for economic measures.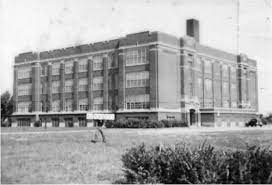 The declining enrollment was tied to movement in the neighborhood, with families moving to other parts of Toledo, seeking more rural subdivisions. Additionally, the decreased population of the foreign labor force left the neighborhoods with less population influx. In 1993, the building was renamed the Thurgood Marshall Building to honor the first Black United States Supreme Court Justice, a few months after his passing. The renaming was an effort to thank Justice Thurgood for his civil rights efforts that improved public education.
After the school closed, however, Toledo Public School system continued using the historic building as the headquarters of the Toledo Public Schools Board until 2015. For more detail of the historic significance of the building you can read the Toledo City Historic District Commission's Report.