For the past few years we've been working with our friends at Root + Branch to create a solar project in Washington, DC that shares it's benefits with it's neighbors.  This Neighborhood Solar Equity project was supported. by the District of Columbia's Department of Energy and Environment's Solar for All program. You can learn all about the Neighborhood Solar Equity- Solar for All project, our partners, and the community benefits it's delivering right here. We built the systems at George Washington University, and as they have been coming online this year, they are gearing up to start delivering benefits!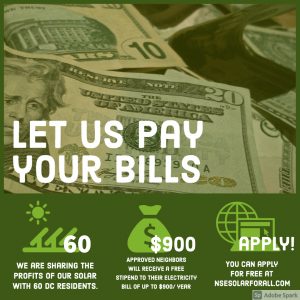 One avenue these benefits are being delivered is through an energy stipend for income qualified DC residents! And applications to participate in the program for free are now available! Our project will produce up to $900/year for each participant, in an energy stipend that will pay down their current electricity bill. The program is seeking 60 income qualified residents to receive these benefits in 2021.
Energy burdened households have always needed support, but COVID-19 has exacerbated the challenge, and even pushed more families into need. When we designed this project, we could never have anticipated a global pandemic or how it would hurt families across the District. But we did see that energy costs are a vulnerable point for families, and we wanted to build a solar project that might help build resilience for our neighborhoods.
If you or someone you love in DC would like to see if they are eligible to apply, email solarforall@rootandbranchinc.com, or use www.nsesolarforall.com to learn more or request an application.