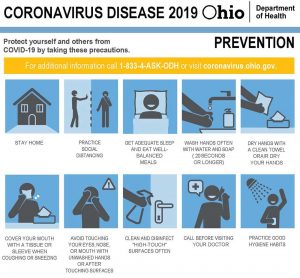 As COVID-19 takes the world by storm, the Praxia Partners family is working hard to weather it- for our team members, our partners and our community. This is most apparent in our Accord Management enterprise, where we are working to keep our residents safe and healthy during a state mandated Stay Home order.
The majority of our residents are within the population most vulnerable to COVID-19; children and seniors. As such, we want to take all of the extra precautions we can to protect our staff, residents and community. Over the past few weeks, we've taken several steps, modified protocols, and committed to communicating with our residents several times a week. Our decisions of how to operate have been and will continue to follow the leadership and information from Governor Mike DeWine and Ohio Health Department Director Dr. Amy Acton, Columbus Mayor Andrew Ginther and the Franklin County Commission.
We are monitoring the ever-changing situation, and convening our task force daily to discuss resident needs, staff needs, and property needs, receive new information and guidance from the health department and government agencies, and review or modify our ongoing protocols and inventory supplies. Through this diligent maintenance, we are ensuring that Accord Management continues to provide the expert care for both our communities and the property assets that have been entrusted to us.
At the time of this writing we have taken the following steps, and disseminated these policies and steps to residents through flyers.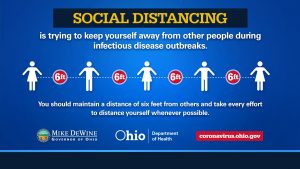 Disseminated information from the CDC, State of Ohio Department of Health, Governor Mike DeWine and Mayor Andrew Ginther.
Emphasized to our residents that we do not want anyone to panic, but asked that we all maintain a healthy respect for the pandemic we are currently working our way through.
Shared information about resources as they come available that may be relevant to our residents' specific needs.
Increased the disinfecting of entrances, railings, elevators and mailboxes to several times a day.
Stocked up to provide hand sanitizer for guests, staff and residents.
Limited maintenance visits to emergency only to reduce exposure to resident's personal spaces.
Closed congregant spaces within the property until further notice.
Closed visitor access to our independent senior living communities, except for visitors providing essential services for our residents.
Limited access to essential onsite personnel to phone or email to limit exposure for both residents and staff.
Made personnel available (by phone) for residents to reach out should they find themselves in need due to the steps for Social Distancing.
Have provided meals from services like Lifecare Alliance brought directly to the resident's apartment, instead of to the common dining spaces.
Committed to frequent communication with our residents about our preventive actions and supportive resources available.
Provide ongoing monitoring of the situation and updating guidance and best practices based on recommendations from the CDC and State health officials.
Asked our residents to practice social distancing.
Encouraged our residents to stay vigilant about hygiene of both themselves and visitors such as washing hands, disinfecting their surfaces, etc.
And we've requested our residents, specifically our seniors, to reach out to our property managers if social distancing or self-quarantining is creating any problems in their ability to conduct activities they need to survive, such as grocery shopping, medication pick up, etc.
We will continue staying in constant contact with our residents, to ensure that they know we are all in this together. And they can trust that Accord Management will continue to work diligently to reduce their exposure and protect their health and homes.
While navigating this Coronavirus disease is unchartered, we are experts at managing properties, and supporting our residents. So as always, we will continue to monitor the situation as it develops, incorporate best practices and health professionals' guidance and take every precaution for the safety and well-being of our residents, staff and properties.