On Thursday afternoon, The Ohio University Board of Trustees passed a resolution approving the strategy put forward by the Ridges Development Advisors to develop an economically viable plan to reactivate the Ridges. The Ridges Development Advisors– a partnership between Community Building Partners and The Buckeye Hills Regional Council –have worked for 20 months to develop a plan that meets the objectives identified in the Ridges Framework Plan while responding to the unique needs of Ohio University and the Athens community. Specifically, this plan: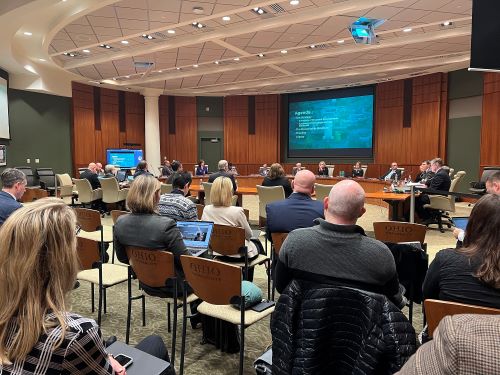 Maintains conserved land for recreation and public use,

Leverages vacant space and developable land to meet market housing needs,

Creates opportunities for flexible commercial space,

Compliments Ohio University's presence as an anchor, and

Leverages Ohio University's significant investment over the years. 
We are proud to be working closely alongside our local partners on this project and are excited to continue moving forward in our reactivation of The Ridges.
Our recommendation to the Board of Trustees focuses on the creation of a New Community Authority (NCA) as the preferred strategy to steward the e adaptive reuse of the historic buildings at The Ridges, plan for limited new construction, and promote long-term environmental conservation.
You can read more about the Ridges Development Strategy here and on our blog.
The approved resolution permits the Ridges Community Development LLC to file a petition for the creation of the NCA and establish the Ridges New Community Authority after approval. 
The Athens and OU communities are invited to learn about the project and share feedback during upcoming town hall meetings hosted by Ohio University. Scheduled town hall dates include:
Town Hall #1 and #2
Date: February 21, 2023

Location: The Ridges Building 14 Room 170

Town hall for University Community: 10 a.m. – 12 p.m.

Town hall for Athens Community: 12 p.m. – 2 p.m.
Town Hall #3
Date: March 24, 2023

Location: The Ridges Building 14 Room 170

Town hall for all University and Athens Community members: 2 p.m. – 4 p.m.